$50 Bonus for signing up
Neo Referral Code :

E6B8C9Y7
Get your Neo Card today with a $25 bonus. And an additional $25 when you open a Neo Money account. That is a total of $50 in bonuses for signing up.
Also. When you share your referral code. You can get up to $85
Use the sign up referral button below to see the current offer amount and terms directly from Neo. This is now the same for everyone. Or use our Neo referral code when you sign up.
What is Neo?
Neo is a technology company that is attempting to build a better financial experience for its users. Founded in Calgary in 2019 by the same people that built SkipTheDishes, the leading mobile food delivery service in Canada. Their goal is to create a smarter spending, saving and rewards experience for Canadians.

Neo provides its users a safe and secure way to save and spend though their platform. The Neo Credit card is provided by ATB Financial and is backed by the Mastercard network.

Also, read our review and sign up through our page to receive a $50 welcome bonus.
Is Neo Safe?
Neo Money account is provided by Concentra Bank. They are a CDIC member institution and is eligible for CDIC deposit protection. This means your money is fully protected and insured for up to $100,000.
Neo Referral Program
Neo gives new users that sign up for their card with a Neo referral code or link $25. This is reward cash that can be applied to your balance at any time. Or use it towards merchandise in the app.
You can also get an additional $10 $25 if you also sign up for Neo Money and deposit $50
If you are looking for a Neo Financial Referral. Use the button below or use the referral code E6B8C9Y7 to sign up and start earning amazing cash back today.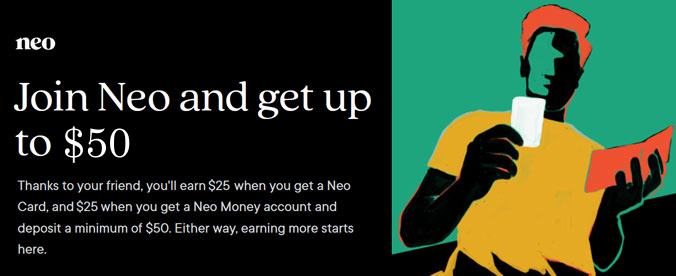 Neo Card Rewards
Neo Card can save you up to 5% on average in cash back. To earn cash back, simply pay with your Neo Card and Neo will reward you in cash back that can be applied to your account at any time.
You can also now also redeem your rewards cash against exclusive items. These items currently are Neo merchandise and a few other items from cookbooks, backpacks, bath bundles, and hair products. The selection is limited. However this is something to keep an eye on as they add more products.
If you want to grow your cash back even further, you can cash out to your Neo Money account and gain interest. As of June 22/2022 your money will get a 2.25% return! Neo Money is a pretty great savings account to have.
Neo has thousands of partners across the country, including the majority of major gas stations, grocery stores, restaurants, gyms, coffee shops, and much more.
Use the app to find out which companies in your area offer additional cashback and bonus benefits. Your cashback rate will rise as you spend more at some partners!
Neo Card Benefits
No annual fee
Up to 4% cashback rewards on their free standard card
A huge amount of partners offering additional cashback incentives. Up to 30%
No over limit or Inactivity fees
Redeem cash back points at any time towards card balance, savings account, or merchandise.
User friendly mobile app
Support Apple Pay and Google Pay
Mobile Alerts
Mobile Virtual Card
$50 Bonus with Neo Referral Code E6B8C9Y7 or Sign Up Link
Neo Secured Card
Neo also has a secured card product. If you have no credit or just looking to rebuild your credit, you can sign up for a Secured Mastercard. There is no hard credit check and it is a guaranteed approval.
This card also has the same amazing benefits of their regular card. So you will still get the same cashback and partner perks. You will also have access to a virtual card and mobile app access to keep track of your spending
Your credit limit will be the same as the amount of money you secure on the card account. The minimum to get started is $50. Most secured cards in Canada require on average a $500 deposit; so this is one of the easiest secured cards to get. This money is stored securely and in the event you wish to close the account, all remaining funds would be returned.
Neo Money Savings Account
Neo also offers an amazing saving account that you can open once you have signed up for you Neo Financial Mastercard. You can sign up from the mobile app.
Some of the benefits of the Neo Money Savings Account is 2.25% interest on your balance, no fees, unlimited transactions, and no minimum balance is required.
Use your account to pay your bills, make deposits, send e-Transfers, save for that big purchase, or link to other accounts to transfer or receive funds.
Once you have signed up with a referral code and deposited $50. Neo will now give you an additional $25 bonus. Sign up today and you and get some extra money. It is a pretty great offer.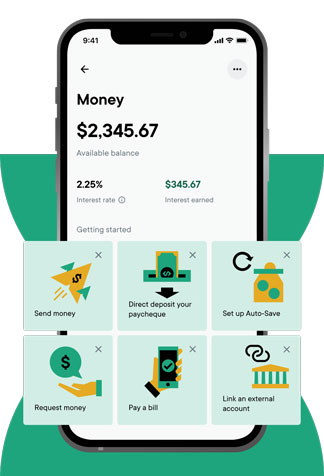 Neo Invest
With Neo you can invest like the 1%. Let Neo actively manage and rebalance your portfolio while navigating the ever changing markets. You will get 3x more asset classes and investment strategies to help balance your portfolio risk and protect you from sudden market changes. Neo has 3 different investment accounts:
RRSP – Plan for retirement
TFSA – Everyday investing account that lets your savings grow without paying taxes
Personal – When your contribution limits get in the way. Still a great option
There is no bonus currently for investment accounts. But you can still use a referral code and sign up for the Neo Card or Neo Money (savings) accounts.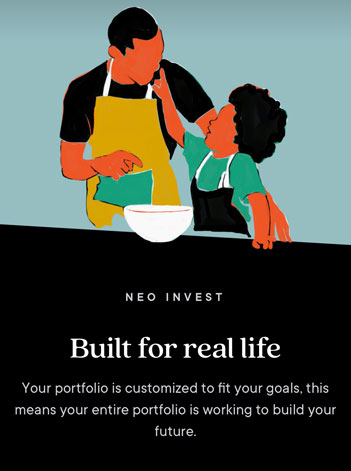 Offer Details: Must sign up with referral button or Neo referral code and must complete phone, email, and identity verification.
Neo
Summary
The Neo Mastercard allows Canadians to earn some great cashback rates at partners. Sign up was extremely easy. And the mobile app seems to be well developed. There also seems to be a decent amount of partners so far. However we are hoping for a lot more to added in the future. Even if you don't have many partners around you, this is still a great base 1% card with no limits or fees. They also offer a very attractive sign up incentive when you use a Neo referral code like the one provided. Currently the bonus is $25 for the Neo Card and an additional $25 if you sign up for a Neo Money account.