Get a $20 Sign up Bonus
KOHO Referral Code :

KOHOBONUS
Must use the referral code to get bonus
First purchase must also be made within 30 days of account creation
See below for more details
What is KOHO?

KOHO is a free pre-paid Mastercard, reloadable card and integrated app that gives you real-time insights into your spending; and awesome features such as goals, rounding up every purchase into savings, joint accounts, 0.5% cash back, earn 1.2% interest on your balance paid out monthly, and security features like being able to lock the card at any time.

The savings rate for Canadians is below 2% of income. Using KOHO's saving features, the average KOHO user saves 7% of the money they put into their account each month. App users can track their spending and use tools within the app to get a better idea of how much money they can realistically spend without creating more unnecessary debt.

KOHO is not a credit card. The KOHO Card is a Reloadable Prepaid Mastercard issued by Peoples Trust Company. And KOHO won't affect your credit score, but it will give you all of the online buying power of a credit card with the cash-only benefits of a debit card. There is no commitment and no annual fees. So there is no risk to try it out.

Joint Accounts

You can also share an account with anyone you want with KOHO Joint Accounts. Like a sibling, spouse, roommate or friend. You'll each get a card so you can easily share funds, track your expenses, and create common savings goals. Once you sign up for a personal card you can then sign up for a joint account in the app, and invite your savings partner. New physical cards for the joint account will then be sent out.

Referral Program

You will get a referral bonus of $20 just for signing up and making a transaction within the first 30 days of using the KOHO referral code "KOHOBONUS".
The timer starts as soon as you sign up, not when you receive your card. So make sure you don't wait too long to make that first purchase. You can also start using the virtual card right away. So add it to your mobile wallet or use it for your online purchases.

Use our KOHO referral code to sign up and take advantage of this bonus offer.
Refer your Friends and Family

The bonuses don't end there. Tell your friends and family about KOHO Mastercard and share your referral code with others. Let them know how great the card is and spread the word! Earn up to $1,000 with KOHO

To find your unique promo code. Log in to the KOHO mobile app, where you will see a small box on the top right. Your code will be displayed on this screen. For every person you refer, both yourself and your friend will get a bonus.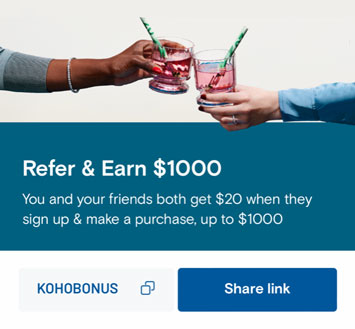 Virtual Card

They also provide you with a virtual card. And if you are like me, waiting to get the shiny new card is the hardest part. As soon as you are signed up you can load and start using your new KOHO card right away while the physical card is in the mail.

The virtual card can be used just like a regular physical card, however basically only for online or over the phone purchases. Or, you can add the virtual card to Apple Pay or Google Pay and use it pretty much anywhere.

For example, sign up, load some money onto your brand new account, and start shopping at your favorite online stores. No need to wait. Nice and easy!


Premium Account

KOHO has also introduced a premium service for $9 a month (or $84 a year). Offering 2% Cash Back on Transportation, Groceries and Restaurants. No Foreign Exchange (FX) Fees. (Great if you are a traveler!) Access to Financial Coaching, 1 Free International ATM Withdrawal per Month, Price Matching, and more.

You can try it out for free for 30 Days. Also, once you pass your free trial, you can order your new KOHO Premium Card. A new vertical design card!


KOHO Credit Building

Need to build your credit? KOHO offers a subscription based credit building service. They will report your progress to a major credit bureau and help you grow your credit score. All with very little effort on your part. All you need to do is make sure your balance has enough to pay the $7 monthly subscription and then just sit back and they will take care of the rest. You can view your score monthly in the app and the progress.


KOHO Benefits
No annual fee
Bonus $20 in cash back with KOHOBONUS referral code
0.5% cash-back on all purchases and up to 10% at partners
Earn 1.2% interest on your entire balance
Free Interac e-Transfers
Automated savings goals
Round up each purchase to the nearest $1, $2, $5, or $10
Real-time spending insights
Exclusive Offers
Joint Accounts
Bill Pay
Apple Pay Compatible
Google Pay Compatible (NEW)
Additional Premium Features (NEW)
STACK vs KOHO
STACK
Mastercard
KOHO
Mastercard
Fees
Yes
None
Foreign transaction fees
None
1.5%
Real-time notifications
Yes
Yes
Saving features
Yes
Yes
Reports to credit bureaus
No
No
Perks
Retailer Discounts
Retailer Discounts
0.5% Cash-Back
Sign Up Bonus
$5
$20
Apple Pay
Yes
Yes
We really like both cards. However KOHO seems to be the most popular. And there is no surprise why. They are continually adding exciting new features.
Some of the newest being the ability to create a joint spending account where two people can share an account and goals, Apple Pay so you don't have to pull your card out of your wallet, and a Premium Offering for those people that want a little bit more out of their card.
On top of that, they offer 0.5% cash back on all your purchases. They also have additional cash back offers with specific merchants. Be sure to check the app regularly for new and exciting offers!

They are probably not the best however for foreign spending unless you have the premium service that does not charge foreign transaction fee's. If you want a no fee card for traveling, then we would recommend STACK for that. Since they don't charge foreign transaction fee's on their basic card. (STACK is also offering $5 to sign up) Neither card reports to the credit bureaus, so they won't affect your credit score. So feel free to sign up for both! However be cautious of the fees with other cards.
Getting Started With KOHO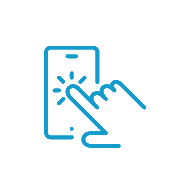 Install Mobile App
Find in App Store
OR
Go to KOHO (Link)
Enter KOHO Referral Code
KOHOBONUS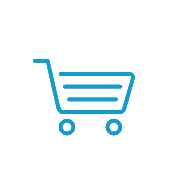 Start Shopping
You can wait for your physical card to arrive
OR
Use your new Virtual Card right away to make any online purchase at your favorite stores.
Why wait!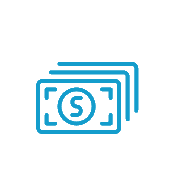 Earn your bonus!
After your first transaction, the 90 day extra bonus begins
Frequently Asked Questions
KOHO
Summary
KOHO Mastercard is awesome. Load up some cash and get all the benefits and convenience of a credit card. The mobile app that goes along with it really allows you to do some neat things. Like budgeting, rounding up, and joint accounts so everyone in the family can get involved. We would like to see more companies be this forward thinking. KOHO Mastercard and similarly the STACK Mastercard are really leading the pack. When you use a KOHO referral code you can also get a pretty great sign up bonus. KOHO will give you $20 just for signing up and giving them a try.